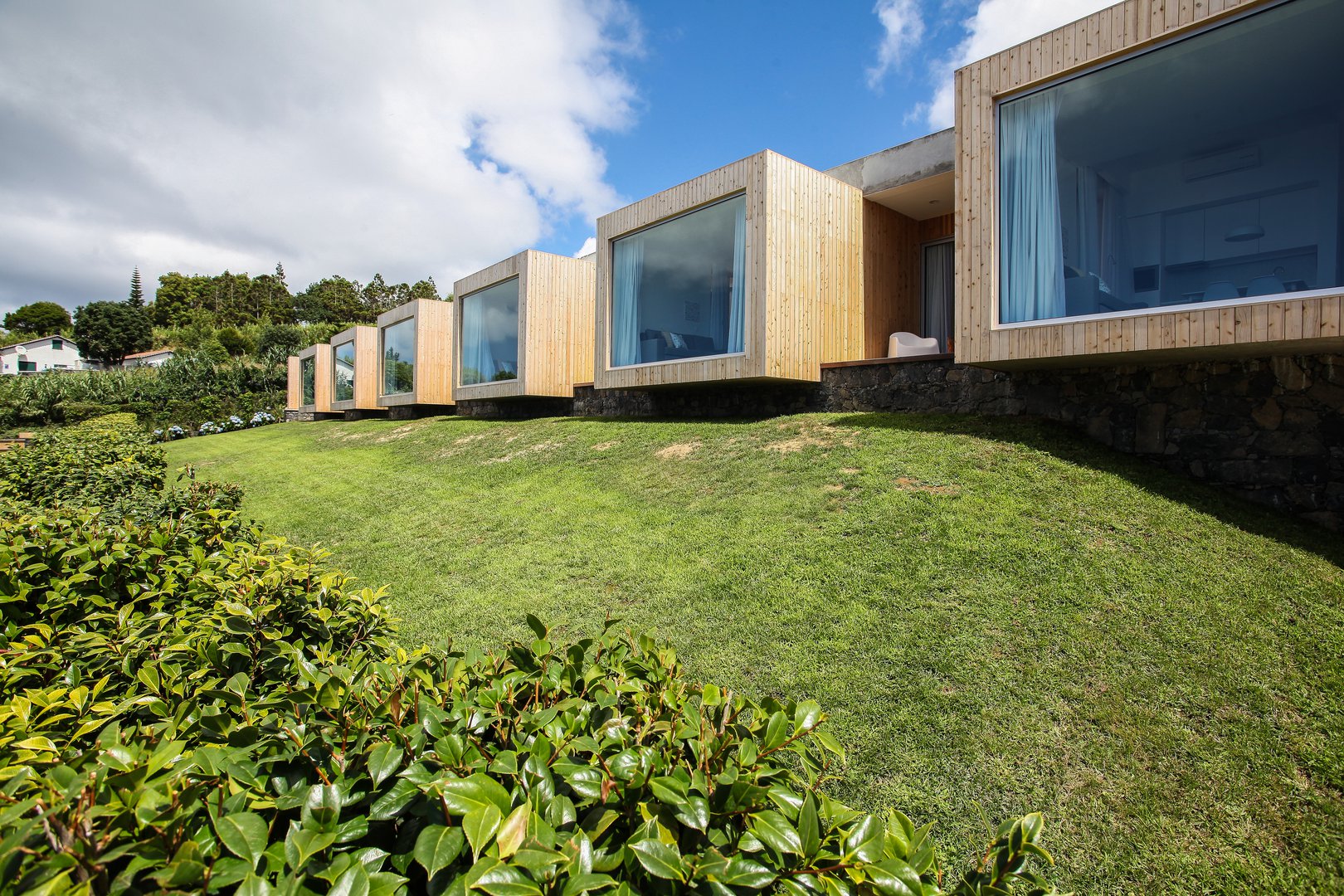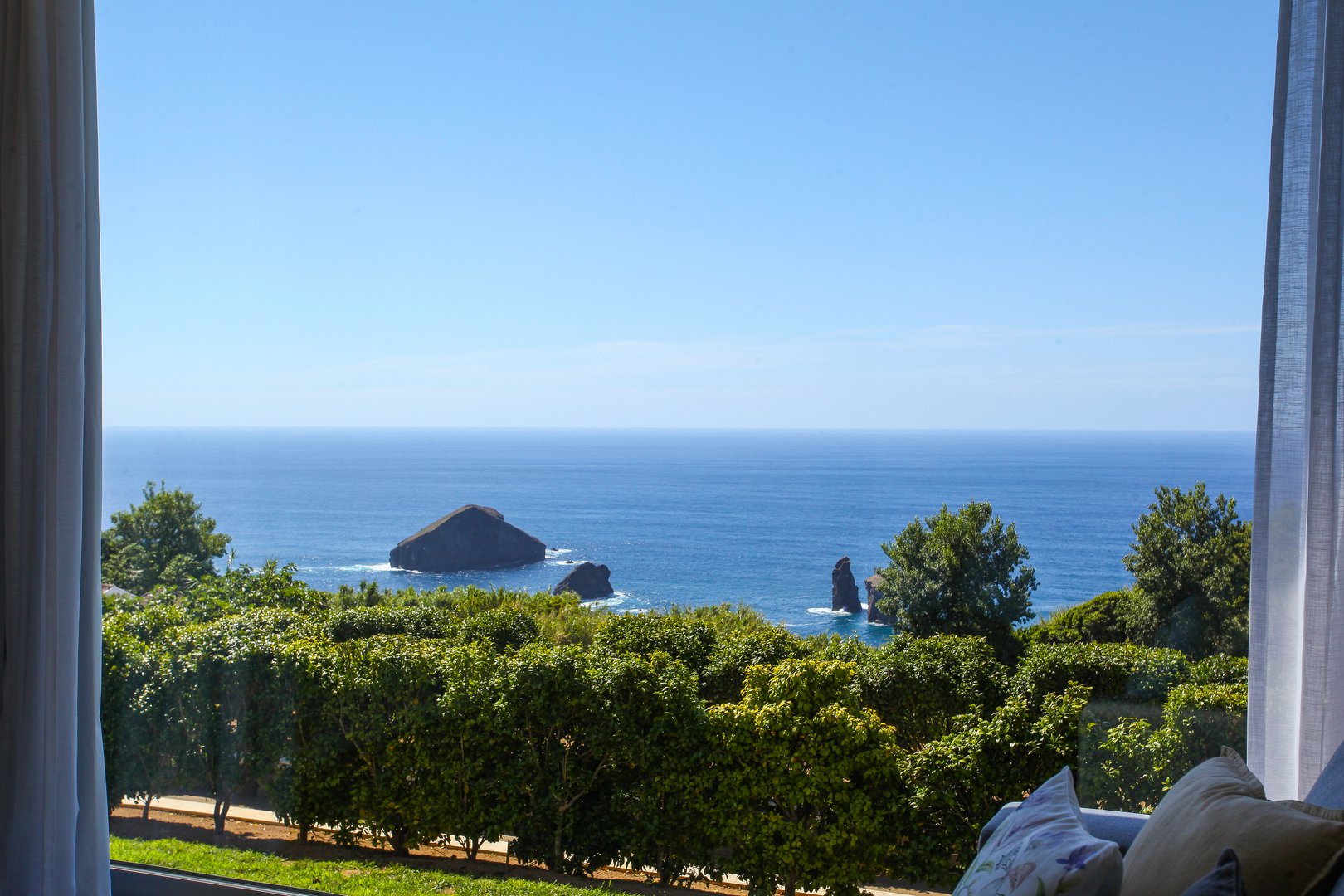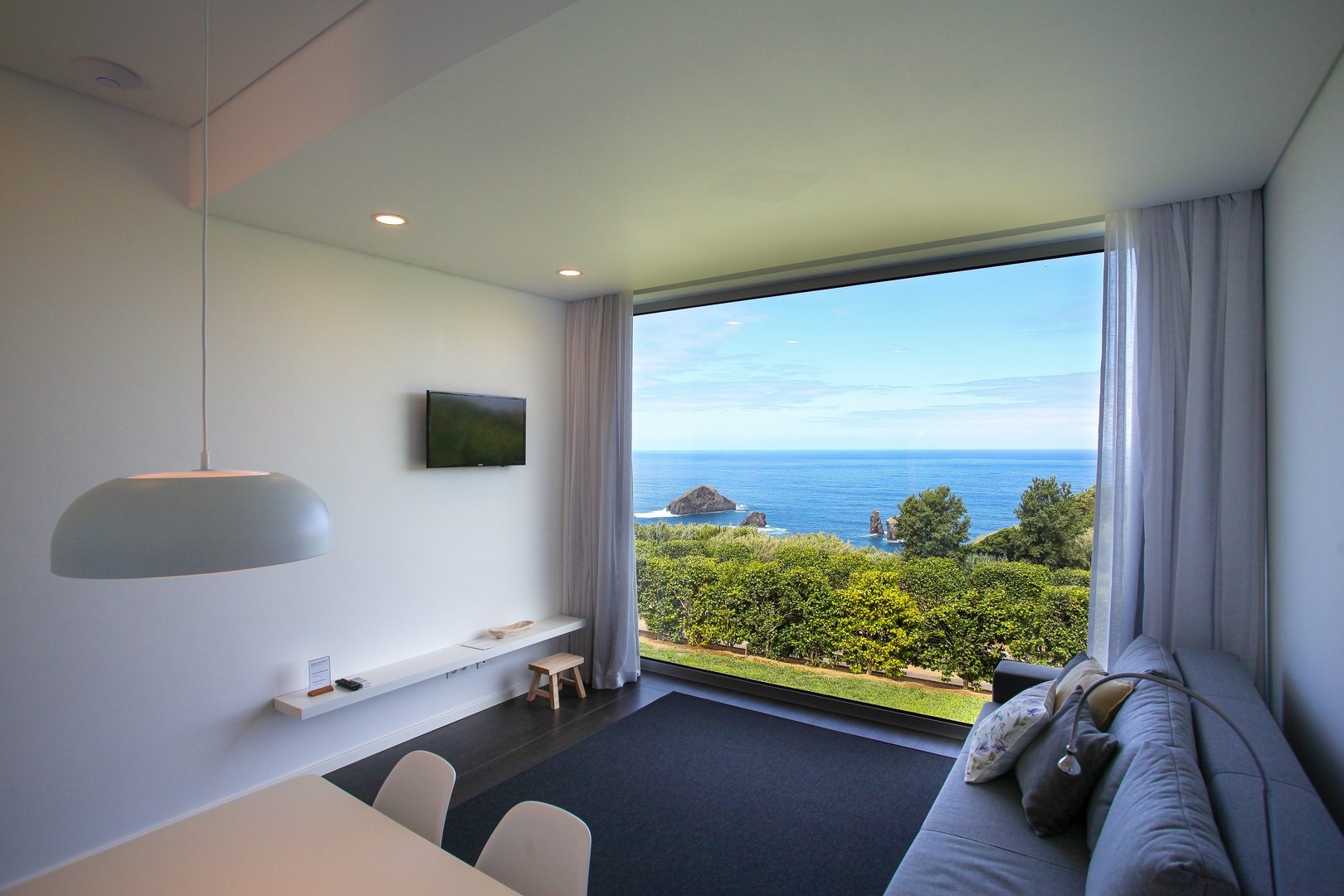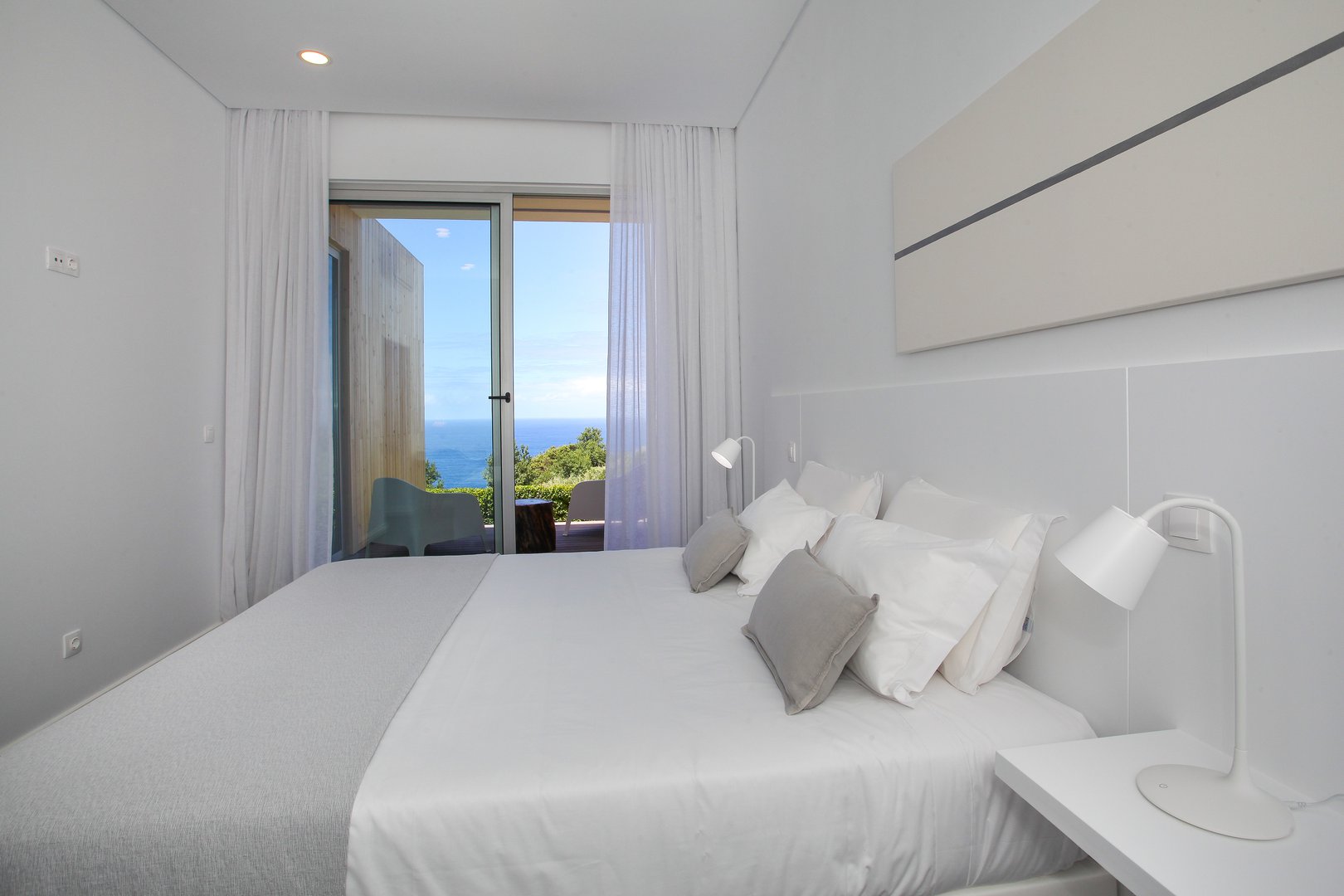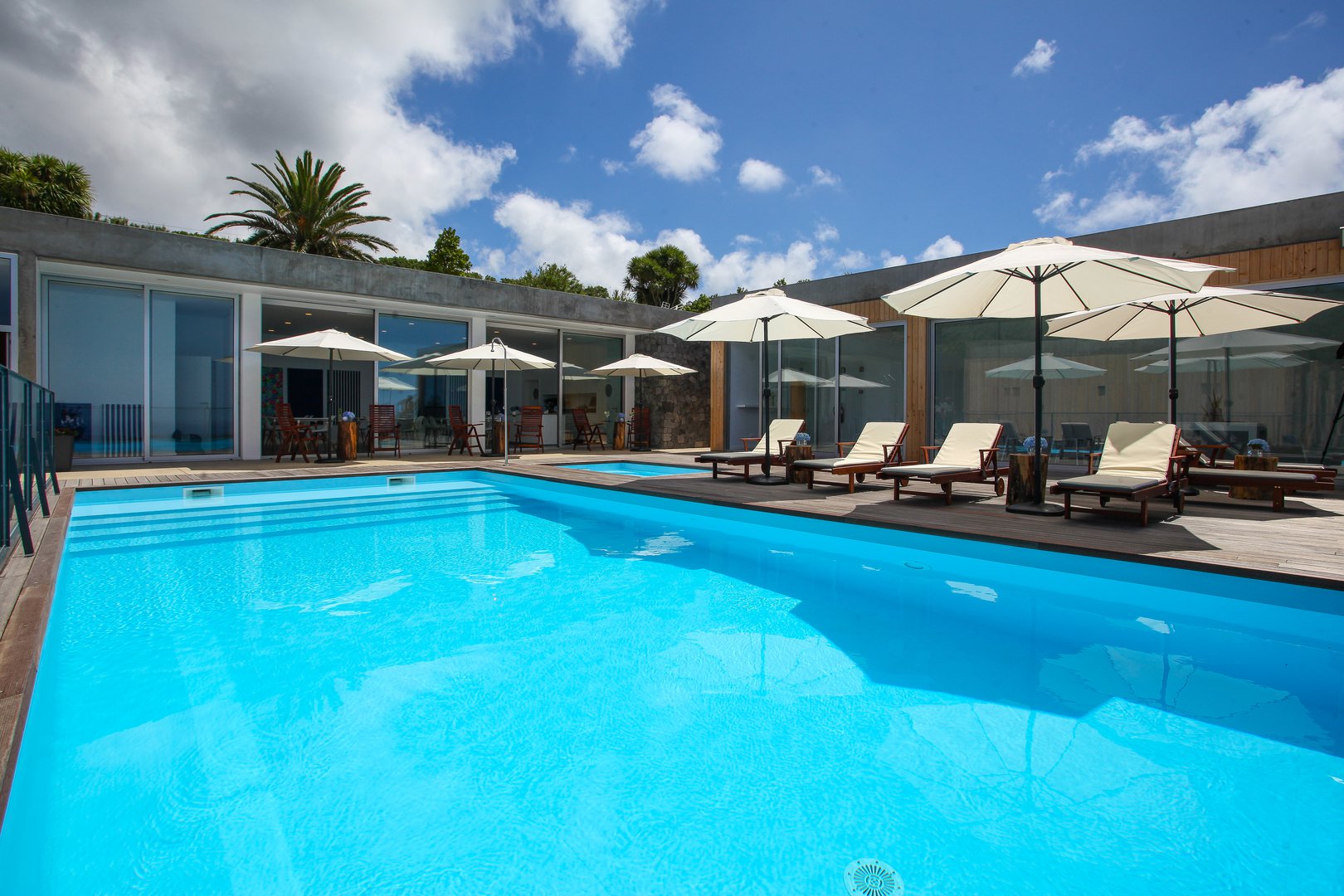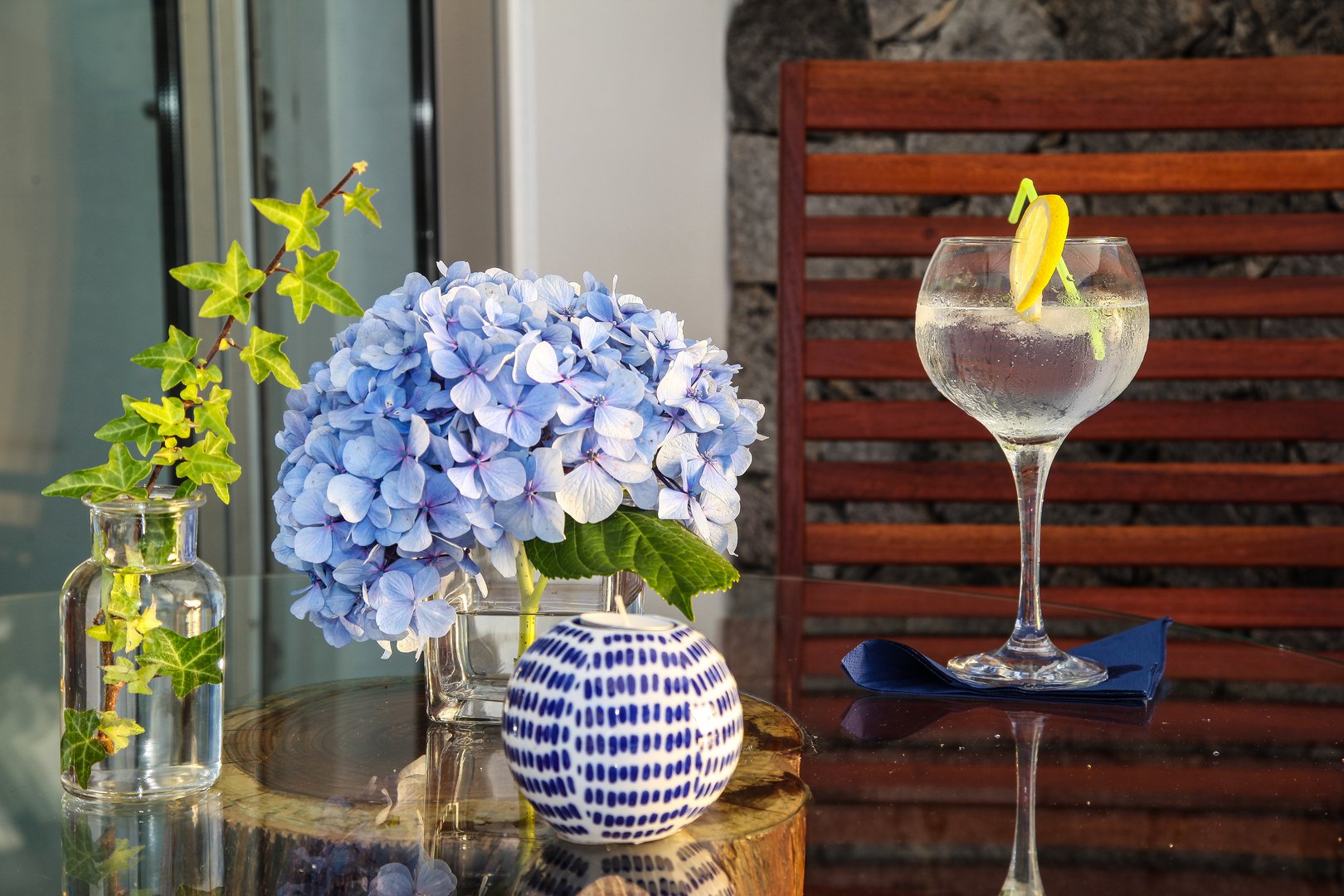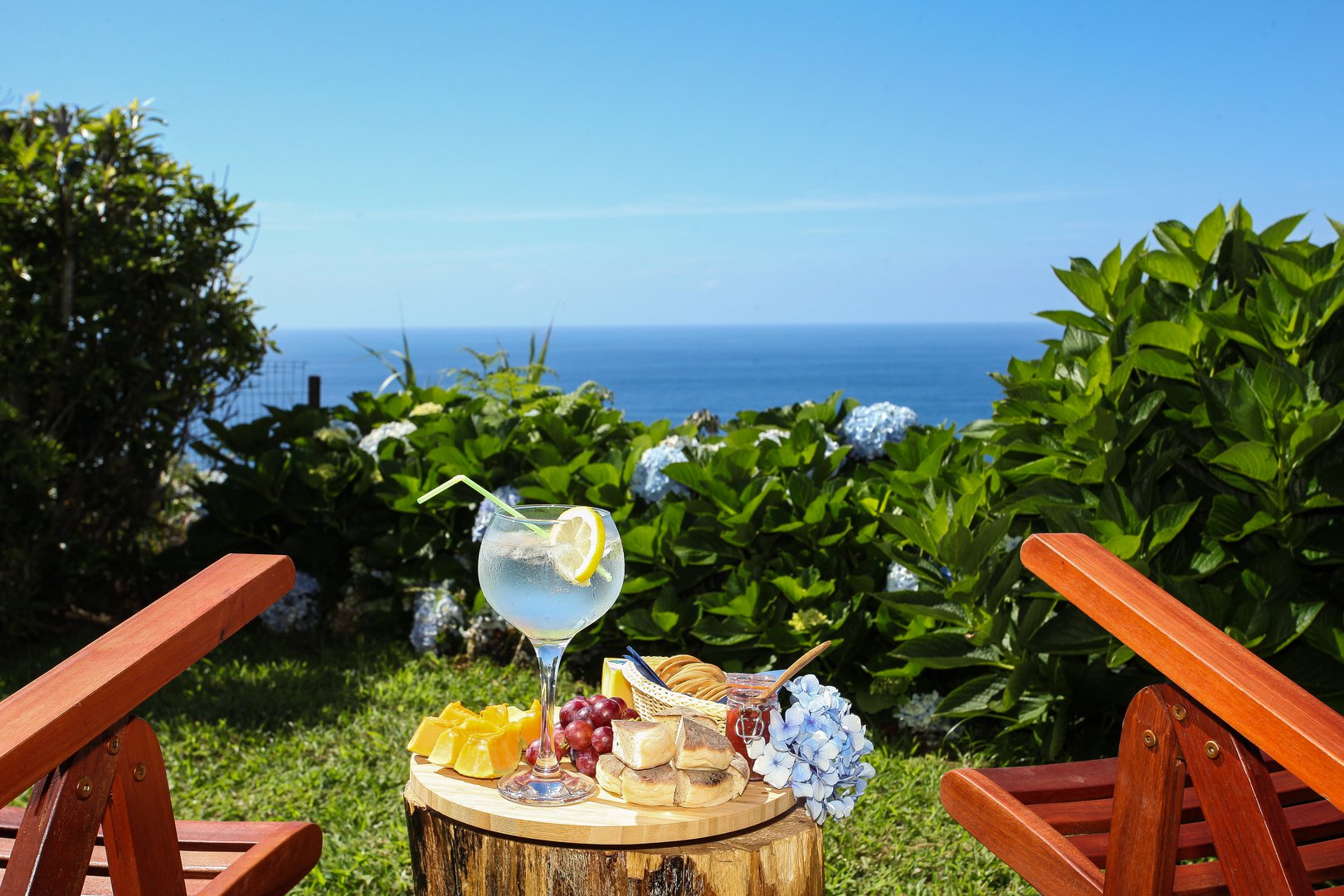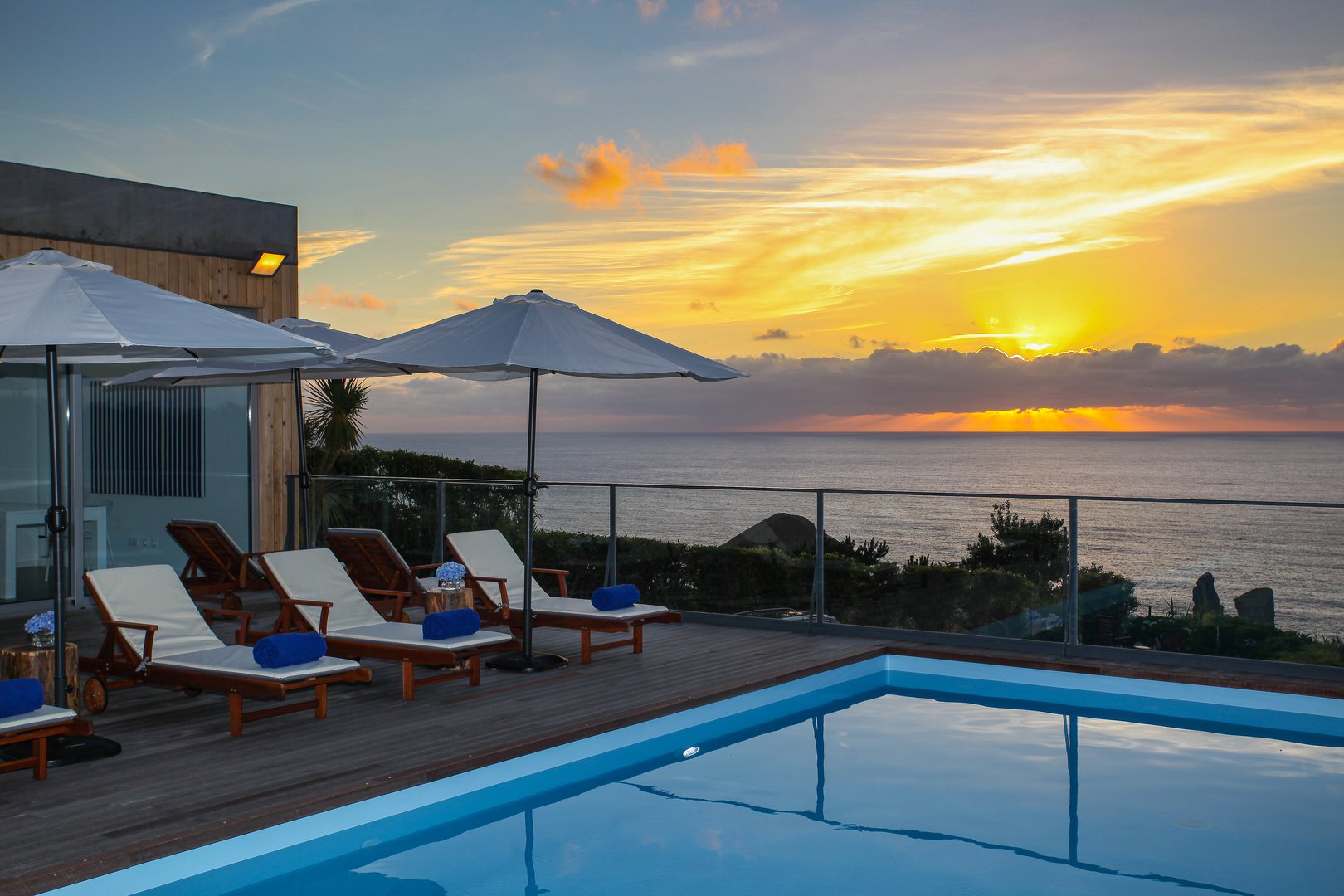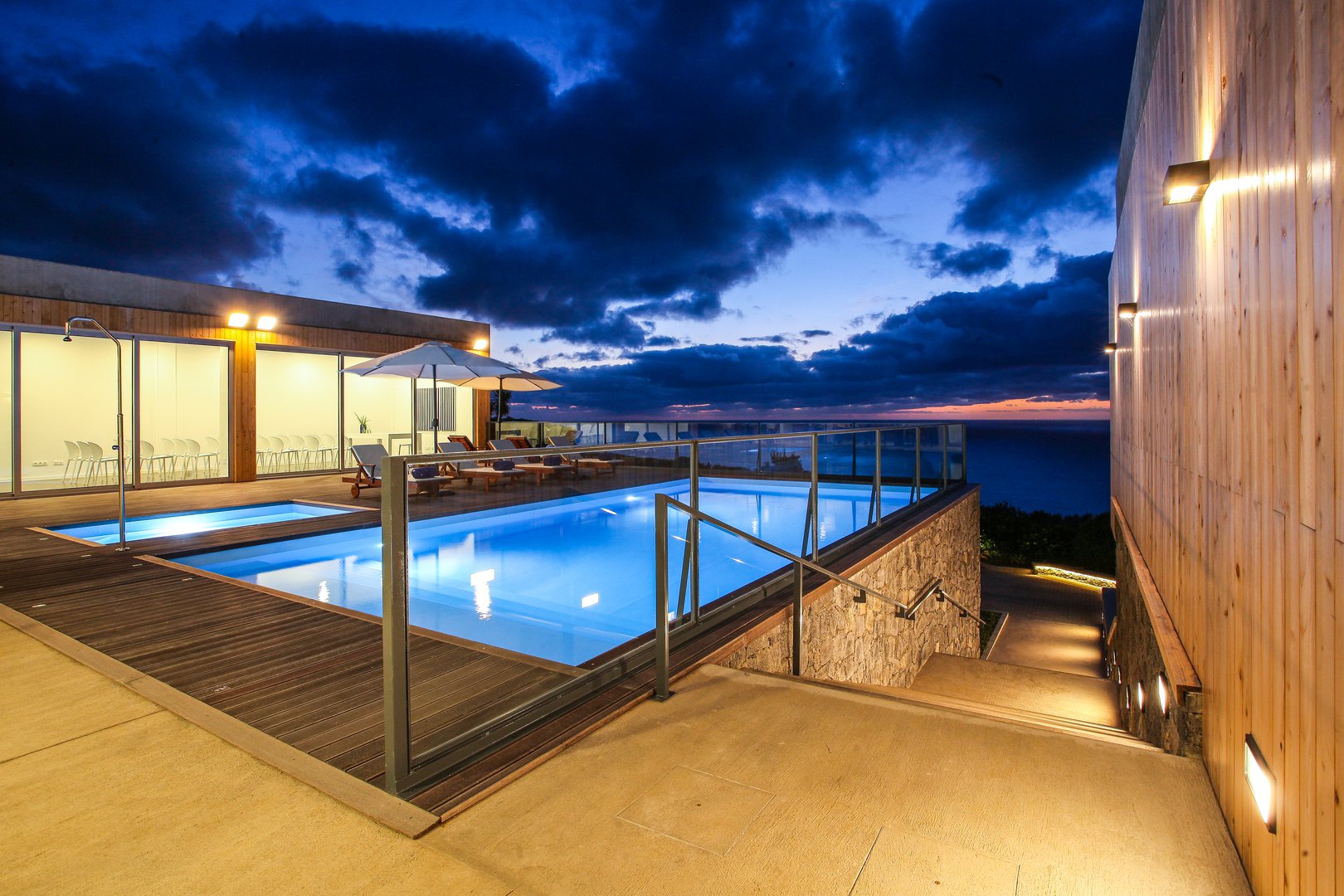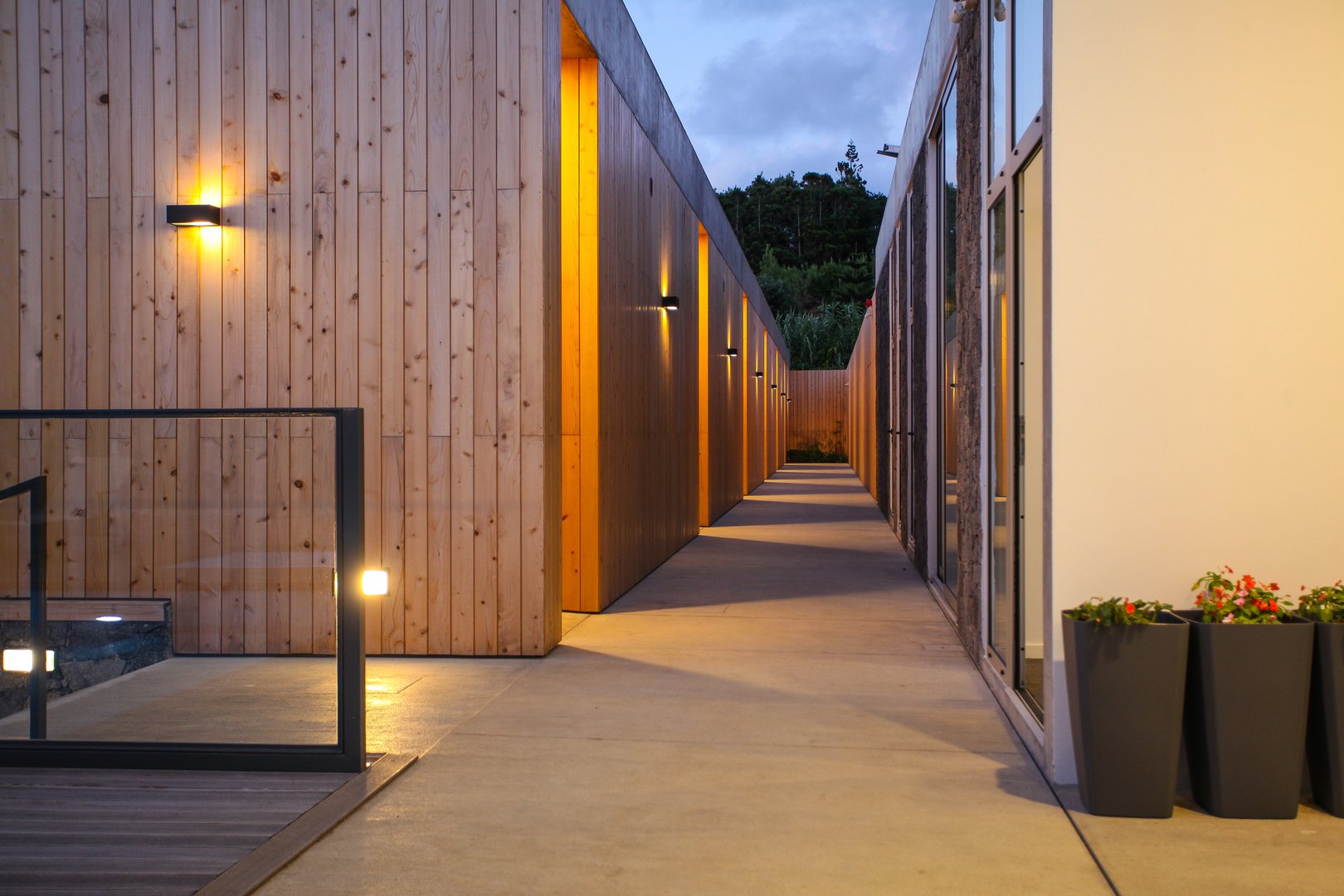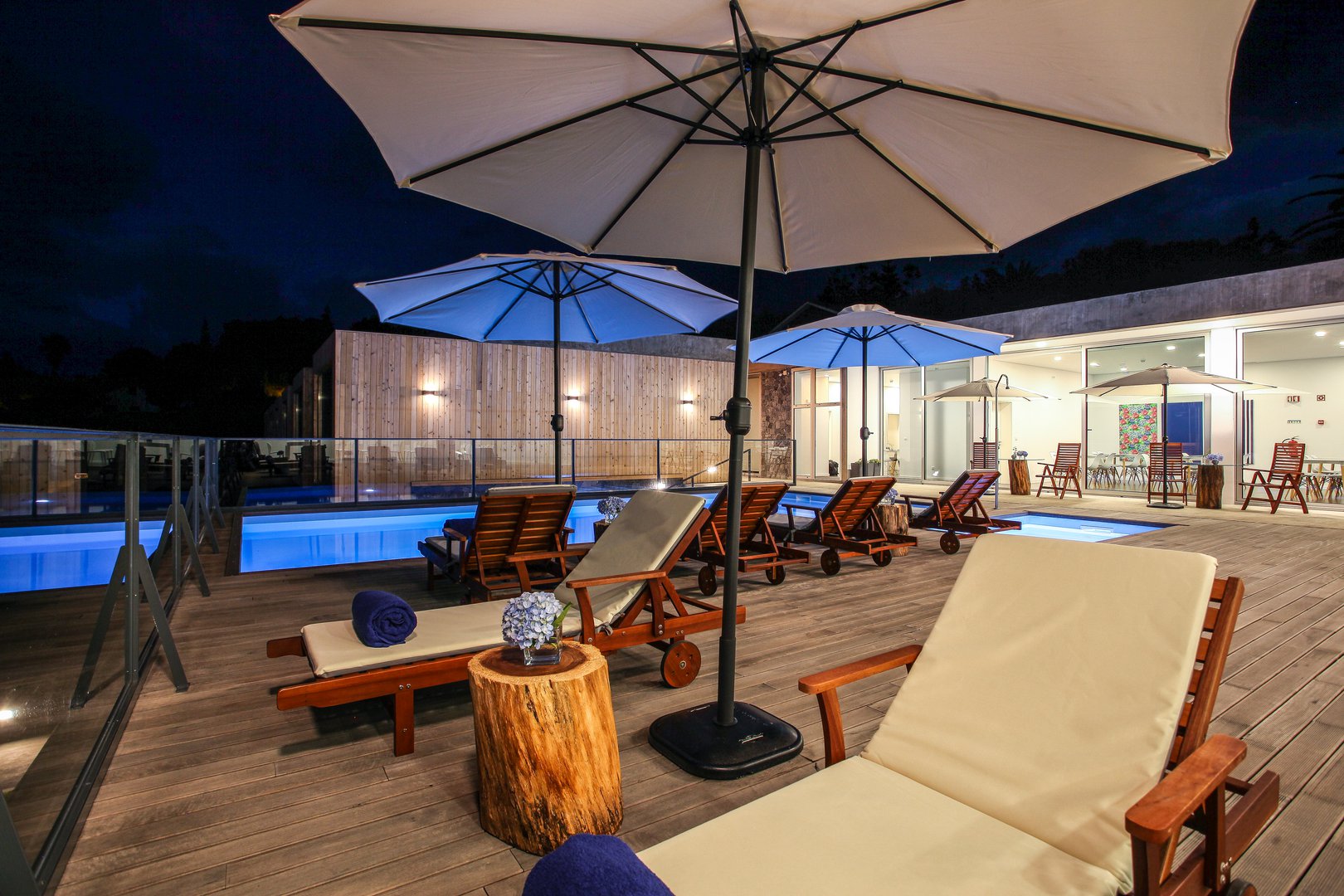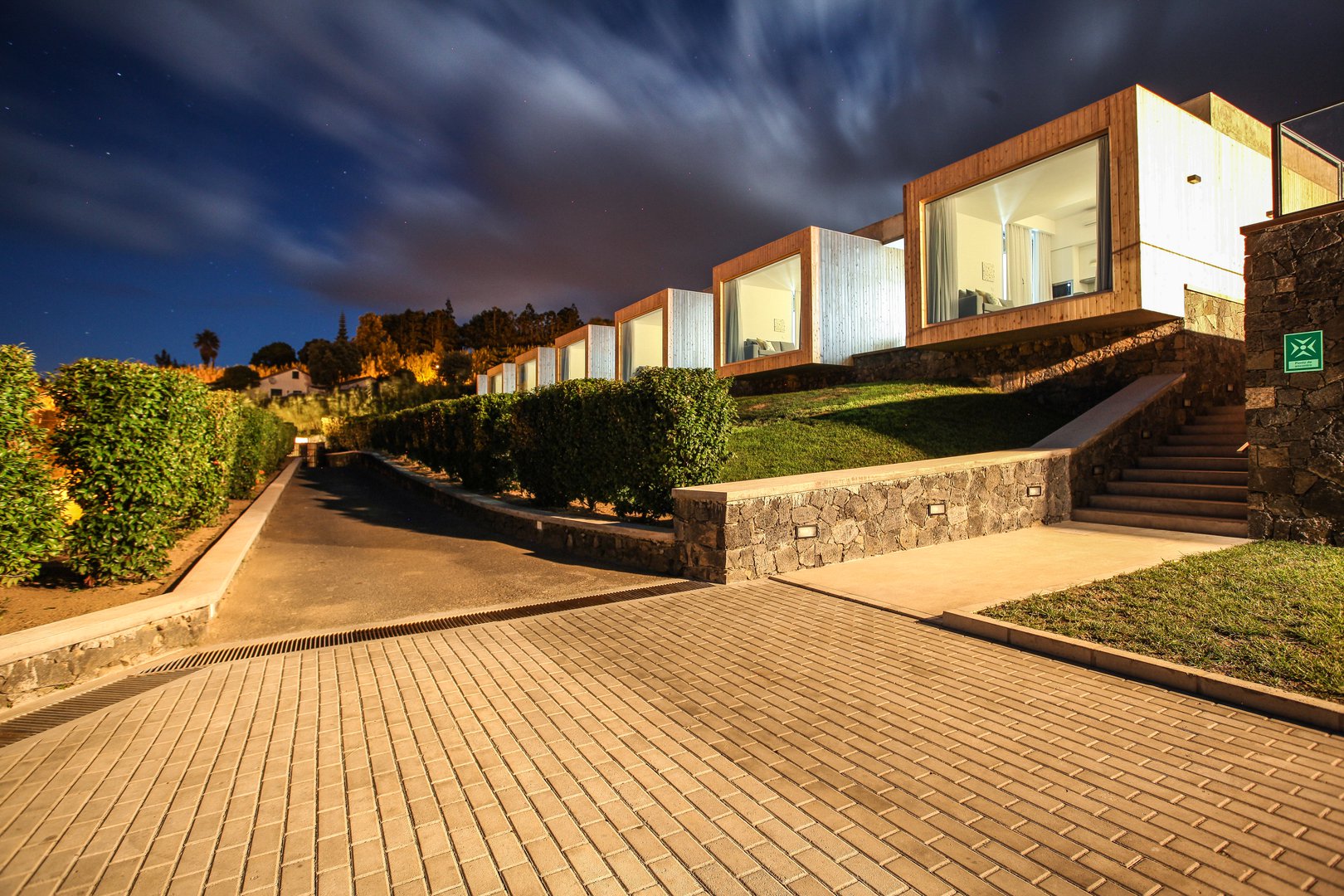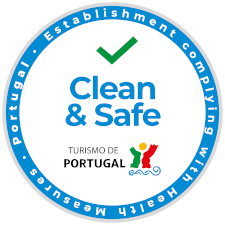 Holiday Apartments
Mosteiros Place offers you accommodation in 6 four-star rated holiday apartments, one of which suitable for people with reduced mobility. Located at the western end of the island of São Miguel - Azores, it is the ideal option for those who seek contact with nature and enjoy family tourism, adventure and discovery. The apartments offer a unique and privileged view over the parish of Mosteiros. You can also experience a superb sunset, having the sea and the small islets near the shore as a background to it.
Amenities
The apartments feature a private bathroom (with hairdryer), kitchenette, air conditioning, free WiFi, cable TV and a safe. In addition, our guests have at their disposal a delicious breakfast, room service, swimming pool, fitness center, snack area, event room, and free private parking.
If you wish to rent a car, contact our partner through info@autatlantis.com and mention "Mosteiros Place" as a reference, in order to receive additional information and special conditions.
Experiences
São Miguel is an island full of experiences and sensations! Mosteiros Place, through its partnerships, suggests activities in water, land, and air, offering unique opportunities for you to create and live your own experiences. By booking through our selected partners you can enjoy the following activities:

Watching whales is one of the most beautiful wildlife experiences. There is something magical about any encounter with these sea creatures!

Enjoy the opportunity to fish in a traditional wooden boat and learn the ancestral techniques of the Azorean fishermen.

Experience one of the best opportunities in the world to see marine life in its natural habitat. (Photo: Best Dive Center)

Entering the underwater world of the Azores islands is like entering a world full of magic and beauty!

Canoe on the lakes and ocean alongside the marine wonders surrounded by high cliffs, bays, and small caves.

Coasteering is a combination of swimming, rock climbing and jumping, in some of the most spectacular scenery of high cliffs and waterfalls on the island of São Miguel.

Canyoning is an adventure activity, bringing fun and outdoor well-being.

Trails are an authentic and enriching experience that leads you to discover the beautiful landscapes and lagoons that lie in sleeping volcanoes!

If you want to mix adrenaline and discoveries, go for a tour in one of the several vehicles available: Van, Jeep, Quads, or Buggy.

What better way to discover the hidden places of the island of São Miguel than by bicycle? Give it a try!

For horse-riding enthusiasts everywhere, there are few better ways to explore the wonders of nature.

The stunning landscape is the perfect setting for an unforgettable Golf game in a pure nature environment.

The Azores islands are a great destination for birdwatching. Nearly 400 American and European birds can be found here during their migration.

Flying is the "old dream of men"... Glide under the clouds and feel the breath of pure Nature!

An awakening of sensations: Energizing Massage, Relaxation Massage and Quick Massage

An awakening of sensations: Energizing Massage, Relaxation Massage and Quick Massage
Discover Mosteiros
Mosteiros Place is about 30kms away from the city of Ponta Delgada. Termas da Ferraria (thermal spring in the sea shore) and Sete Cidades (one of the 7 Wonders of Portugal) are a 15 minute drive away.
This area is recognized as one of the most beautiful of the island of São Miguel - Azores, where the sunset offers a magnificent view.
Mosteiros natural pools are the ideal place for those who love the shore and the sea, for baths or for fishing. In Mosteiros you can also enjoy the walking trails that go to Sete Cidades parish, through the route of 'Pedra Queimada' or 'Pico de Mafra', or through 'Caminho Velho' ('Old Path') that connects Mosteiros to the Escalvado viewpoint.
Guestbook
What an amazing place Moisteros Place is! Myself. wife and baby daughter enjoyed a very comfortable night with you in July, thank you so much for having us. So good to have a great accommodation option on the west coast of Sao Miguel :)
Jake Cardigan, Archipelago Choice, Keswick, UK
ciao
Giovanni, Gallarate, Italy
Mosteiros place truly is " a pearl" Thank you for the warm welcome, the excellent service and the many suggestions during our stay. Sao Miguel is a beautiful Island, our memories of it remain coloured by Mosteiros Place, all of you and the excellent services we enjoyed. Thanks a lot and and all the best for the future
Steven & Josette, SCHALKHOVEN, Belgium
Muitos parabéns. Um fim de semana cheio de serenidade, num espaço luminoso, de muito bom gosto. Fui muito bem recebida. Recomendo.
Maria Helena Castro, Ponta Delgada, Portugal
Espectacular ! Tudo excepcional, de um bom gosto notável. Recomendo vivamente, e irei repetir a experiência. Parabéns !
Jorge Nemésio, Ponta Delgada, Portugal
If you stayed at Mosteiros Place Holidays Apartments or enjoyed our amenities and services as a non-guest, please share your experience in our Guestbook.